IN-HOUSE CROSS COUNTRY AT VANGE PRIMARY
Class 1 winner's - Theo Houdoire/Ellie-Mae Jones
Class 2 winner's - Jack Smyth/Priscilla Ojedele
Class 3 winner's - Riley Gutteridge/Zanfe Smith
Class 4 winner's - Wesley Osunde/Lily Smyth
Congratulations and well done to all who took part
Tag Rugby Competition Monday 13 January 2017
The second week of the tag rugby competition took place during January. The team found it very tough against some good teams and unfortunately were unable to win a game. The next tag rugby competition will take place in a few weeks time and I'm sure the team will be looking for improve and record a few wins. Team: A. Burrison, T. Stewart, L. Smyth, C, Cox, B. Johnson, A. Robinson, J. Cook, H. Emmanuel, C. Brunt and T. Barnard.
Vange vs Ghyllgrove Friday 27 January 2017
Last Friday, the boys' football team played their third league game of the season against Ghyllgrove Primary School. The game was close throughout and very few chances were created by either side. Ghyllgrove eventually ran out 2-1 winners to inflict our first defeat of the season. However, the boys have another match this Friday to hopefully get back to winning ways. Team: B. Clayden, H. Ogilvie, C. Cox, J. Allder, W. Osunde, H. Smith, B. Johnson, R.
EFL Kids Cup
The boys' football team started the new year by heading to Colchester for a county-wide football tournament. It was part of the EFL Kids Cup and Cochester United were searching for a primary school to represent them at Wembley Stadium. The boys had never played any of the teams before so this was a good opportunity to test themselves against some of the best teams in the county. Vange played three group games, winning them all including a particularly impressive 3-0 victory over West Horndon Primary. This mean that Vange finished top of their group and moved into the quarter finals. There, they played St Michaels Primary from Colchester. It was very close match and Vange conceded their first goal of the tournament in the first few minutes of the game. However, Vange got stronger and stronger as the game went on eventually scored an equaliser towards the end of the match. This meant that penalties ensued. Unfortunately, we we lost 4-3 on penalties and therefore were knocked out of the competition. All the boys should be very proud of the high level of football they produced and look forward to our next tournament at the beginning of March.
Team: B. Clayden, H. Ogilvie, C. Cox, J. Allder, W. Osunde, H. Smith, B. Johnson, A. Robinson.
BASKETBALL COMPETITION AT JAMES HORNSBY
Friday 9 December 2016
SILVER POSITION
FANTASTIC VANGE WELL DONE
Vange continued their sporting success this year by coming second in the district basketball competition. None of the team had every played a competitive game of basketball but this didn't show as they convincingly won their first match 32-0 against Janet Duke. They continued to produce excellent performances to beat the other teams in their group from Fairhouse, Greenstead and Phoenix. This resulted in Vange winning their group and reaching the semi-final. There, they played a very competitive match against Cherry Tree which went to extra time. Bobby Clayden scored the all important basket to claim the victory and earn Vange a place in the final against Lee Chapel. Vange played very well against an experienced side, but were unable to win.
Overall, the team played extremely well and can be very proud of their achievement, especially as it was their first time representing the school at basketball.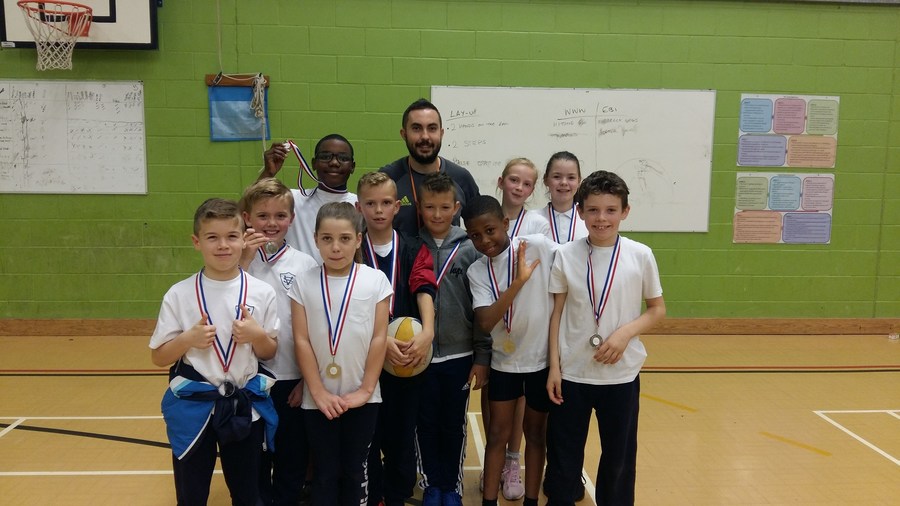 DODGEBALL
Friday 25 November 2016
Bronze Position
WELL DONE TO ALL WHO TOOK PART
On Friday 25th November, ten children went to James Hornsby to represent Vange in a district dodgeball competition. The children won all three of their group games in the morning and successfully made it through to the afternoon semi finals. In the semi final, they played Bardfield. The team won their first game but then went on to lose the final two games to make the final score 2-1 to Bardfield. However, the day was to end on a high note for Vange as they were triumphant in the third place match against Whitmore and won bronze medals. The team did exceptionally to come third out of 18 teams and can be very proud of their achievement.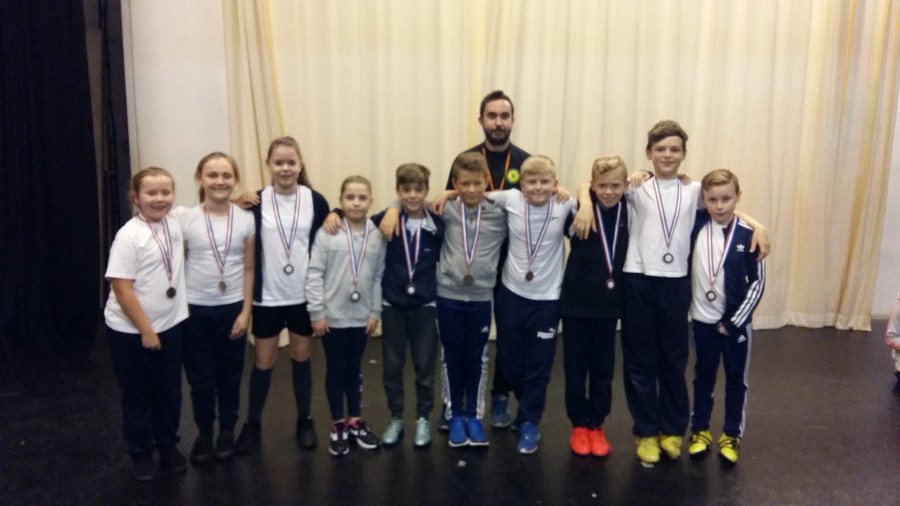 PE at Vange
Gold Winners
Key Stage 1 Basketball Competition
Over the past few weeks 10 children from class two have been training with our Chelsea coach Craig Mitchell to develop and refine their basketball skills.
On Wednesday 16th March these children went to Eversley Primary School to compete in an interschool basketball competition. They played a 20 minute game which was made up of four five minute quarters. All of the children demonstrated the skills they have been practising on Thursday afternoons and they all demonstrated excellent teamwork and good sportsmanship.
Many shots were taken and lots of points were put on the scoreboard which resulted in a Vange win!
Up and coming events and competitions for our children.
08 February 2016 - Change 4 Life Festival - James Hornsby School 11.30am - 2.30pm
03 March 2016 - Year 5 & 6 Cross Country - James Hornsby School 11.30am - 2.30pm
09 May 2016 - Tag Rugby Central League - James Hornsby School 3.30pm - 5.00pm
TBA - High 5 Netball TBC
09 June 2016 - Rounder's Years 5 & 6 - The James Hornsby School 10.30am - 2.30pm
20 June 2016 - Tag Rugby Central League - The James Hornsby School - 3.30pm 5.00pm
June and July - District Athletics KS2 - TBC
Dodgeball - 30 November 2015 - Year 5 & 6 Dodgeball at Basildon Sporting Village
On Monday 30th November I took a group of 10 children from Class 4 to the Basildon Sporting Village to compete in an inter-school dodgeball competition. Sixteen schools took part in the 'A team' tournament and competition was fierce!
The children played really well and demonstrated fantastic teamwork in addition to the game skills that they have been refining with Craig on Thursday afternoons. As always I was extremely proud of our little school and even though we did not make it through the group stage of the competition I just wanted to say a big WELL DONE!! to all those who took part.
Miss Thomson
FOOTBALL MATCH
Vange Primary School v Cherrytree Primary School
On Thursday 26 November, we travelled to Cherrytree Primary School to play a friendly against them. The game ended with us winning 5-2. The heavens opened and everyone got soaked, but it was a great evening and everyone enjoyed it.
Here are a few pictures that were taken and you can see that we have very loyal supporters who will brave any weather, Mr Rogers had an umbrella though!!!